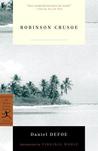 Robinson Crusoe by Daniel Defoe
My rating: 4 of 5 stars
Robinson Crusoe is about a man who seeks for adventure. Despite his parents' hesitation towards his ambition, he still continued what he wanted. Though that lead him to being stuck in an island, it thought him many lessons in life.
I give the book 4 out of 5 stars. The story is realistic and very worth it. While reading the book, I was really fascinated by how he handled to be stuck in an island where no one lives. I like the book because it can teach readers many lessons and not just how to survive in an island.
For me, the book's slow-paced and get high at the end. I wasn't able to finish it for days or weeks. It took me months before I was able to finish it. I did like the story but I did not love it as much as I do to other classics. However, this doesn't mean you won't love it.
Every reader has a different perspective. So why not try? This is a worth it classic book after all. Maybe it's not just for me. Who can tell? Maybe it's for you.