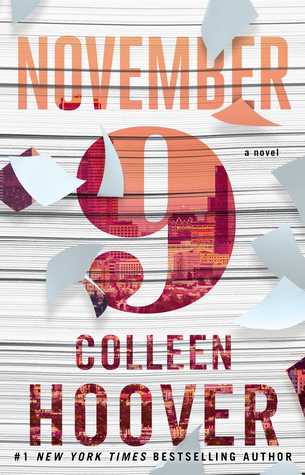 ABOUT THE BOOK:
Beloved #1 New York Times bestselling author Colleen Hoover returns with an unforgettable love story between a writer and his unexpected muse.
Fallon meets Ben, an aspiring novelist, the day before her scheduled cross-country move. Their untimely attraction leads them to spend Fallon's last day in L.A. together, and her eventful life becomes the creative inspiration Ben has always sought for his novel. Over time and amidst the various relationships and tribulations of their own separate lives, they continue to meet on the same date every year. Until one day Fallon becomes unsure if Ben has been telling her the truth or fabricating a perfect reality for the sake of the ultimate plot twist.
ABOUT THE AUTHOR:
I love to write and I love to give away things that I write, so follow me on my Facebook author page at www.facebook.com/authorcolleenhoover
Twitter and Instagram: @colleenhoover
For information about The Bookworm Box, visit www.thebookwormbox.com
BOOK REVIEW:
My rating: 5 of 5 stars
I SO LOVE THIS BOOK ASDFGHJKLKJHFAV! I heard so much about this book and I regret not buying it earlier! Thanks to Sasha Alsberg, I was able to read it and enjoy it. I was watching her November haul then suddenly, there appeared Colleen Hoover's November 9 and I was like: I SHOULD GET THAT NOW. AS, IN NOW IADHIHDIUGSUD! I became more interested when Sasha said: WHO DOESN'T LOVE TO READ BOOKS THAT ARE ABOUT BOOKS?!
The book was amazing, really. It's a funny and a fast read. Usually, I get bored reading stand alone novels. But I must say this book's different. It has the emotion I'm looking for. It reached my expectations, it's actually more than what I've expected! What I love about this book is that it's staright forward and has a humor. It's not an oh-so-serious book which I love.
The idea and concept was amazing. I never heard a book like this—it's so unique! As for the book appearance, I love the cover as well as the description at the back—it's catchy!
During their third November 9, I became a little stone hearted due to the fact that something happened and I don't know what came into me but I support Fallon's decision. Then came their fourth November 9, oh mother dear! I was so furious when I found out things!!! I'm so disappointed with you, Ben. But as the I proceeded with their fifth November 9, I'm starting to hate myself for hating him. I'm almost at the peak or conclusion of the book and I don't know how to feel. My curiosity says I should finish the book but still, there's this part of me that says no to finishing the book.
I'm going to miss Fallon and Ben and Kyle and Ian and Jordyn and Amber and oh, I really admire teddy for willingly wearing pants with whales on em.
The story was fun and funny at first but intense, heart breaking, heart melting and really touching at the end. I cried and laugh with this book—I'll never forget this story—it feels so real. The ending was almost P E R F E C T I O N. Plus that it's not a cliffhanger!
Starting today, I'll look forward to November 9. I used to hate November, to be honest. But with this book, HOW CAN I?
~~~*~~~
INQUIRIES: abookwithbea@gmail.com