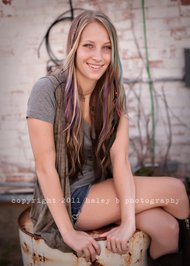 ABOUT THIS AUTHOR:
Lindsay Cummings is the 24-year-old author of THE MURDER COMPLEX duology and BALANCE KEEPERS trilogy at HarperCollins. She lives in the deep country in Texas, with her Grumpy Husband Josh, a German Shepherd, a German Shephusky, a draft horse named Dan the Man, a cat named Crookshanks, and 5 silly, egg-laying chickens. She is convinced her Hogwarts letter was just lost in the mail.
Lindsay graduated high school in 2009, and after several years of severe illness due to Chronic Fatigue, she decided to take up writing. She never looked back, and once Lindsay's books found a home at HarperCollins, she turned to social media to connect with her fans. Lindsay created the hashtag "#booknerdigans, which has reached over 200,000 uses on Instagram, and even more on Twitter.
Lindsay loves to do school visits, writing workshops, attend bookish events around the USA, and when she's not writing, you can find her reading (she believes you can never read enough), riding her horse, hanging out with her dogs, going to church, where her husband is a Youth Pastor and she's on the worship team, and lately, Lindsay loves filming nerdy videos for her new YouTube channel. 
Lindsay loves to connect with her fans. She's a big believer in helping young writers find the right path to publication. She believes that if she can do it, you can too. Seriously! Go for it!
Q&A
If you hadn't become an author, what would you have done instead?
– I wanted to be a musician…probably a choir director. Or, maybe I would have been an English teacher or Librarian. Something fun and creative for sure!
Had you always wanted to be an author?
– I always loved writing as a kid, but never took it as a serious career option until I graduated high school. 
What's your favorite genre to write about and why?
– I love writing scifi and fantasy, both pretty evenly. They are fun and there are so many countless opportunities for action and intrigue!
Do you like reading as well as writing?
– YES! I've always been a reader first!
Do you have a wattpad account?
If ever, what did wattpad do to change your life?- I don't, but I think it would be fun to start one 🙂
Can you give writing Tips?
– Write every day, read every day. Write even when it's hard, even when it sucks. Write always. Journal. Plan. Plot. Edit a LOT. Be open to criticism, but don't let someone crush your dreams.
What inspired you to write your book?
– For THE MURDER COMPLEX, it was the fun of writing such a bad-A character as Meadow Woodson. For BALANCE KEEPERS, it was the idea of writing a book that gave readers the same magical feelings as Harry Potter and the Unwanteds.
What urged you to become an author?
– The desire to share my stories with the world!
How do you write?
– Every day, a little bit, on my macbook, usually on the couch with a mug of coffee that I always forget to drink!
What advice can you give to those who aspire the same career as you?
– Don't give up, EVER. The ones that make it are the ones that keep going until they reach their goals/dreams, but are still willing to grow at every chance they get.
Do you have future projects or plans regarding bookish stuffs? If ever, can you give me one?
– I have a few secret books I'm working on. A YA scifi called "NEXUS", and a Middle Grade fantasy called "GENESIS"
Do you do lots of research for your book?
—If Pinterest is research, then YES!
What's the hardest thing about writing?
– Writing when I don't feel creative…which is more often than not!
What's the easiest thing about writing?
– Action scenes! They're my favorite.
What can you say about @abookwithbea's blog?
– Thanks for having me 🙂 🙂
Do you aim for the same word counts every time you write?
– I usually like to get around 1500 a day.
If you already have published a book, how does it take to get your books published?
– It usually takes about a year or two, once the contract is signed, for the book to hit shelves.
Is your book somewhat related to what you went through in life? 
– I was super sick with Chronic Fatigue Syndrome after I graduated high school, and writing the strong characters in THE MURDER COMPLEX was a bit therapeutic for me.
How did writing this book changed you as a person and your life?
– I'm an author now…something I never thought I'd ever get to actually BE!
Where can we find you? [SOCIAL MEDIA ACCOUNT – LINKS]
– Twitter @authorlindsayc, Instagram @authorlindsaycummings, and I'm on Youtube as well!
What advice can you give to those who..
–        Cry because someone broke their heart? – Remember that time heals these sorts of wounds.
–        Succeed but doesn't consider looking back from where they've started? – It's important to look back and see how far you've come. It keeps you humble.
–        Feel like they're nothing in this world? – Everyone is someone, and everyone is unique and important, even if they can't see it at the time.
–        Dream but always fail? – Eventually, the RIGHT dream will come true.