Hey guys! So today, I just recently received an ARC from New Harbinger Publications, Inc. I'm so thankful that they gave me a copy of this book! I really need one right now. (This blog post was supposed to be with the Bookish Update #5 but these books were sent few seconds after I posted it. So I decided to just make a new one.. since the Bookish Update #5 was too long.
#1 The Teen Girl's Survival Guide: Ten Tips for Making Friends, Avoiding Drama, and Coping with Social Stress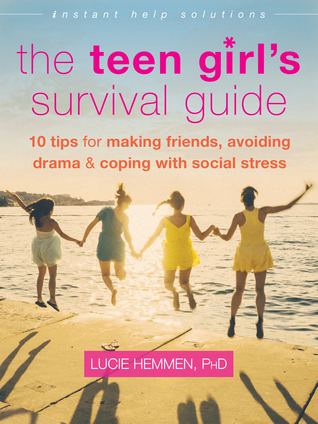 If you're like many teen girls, you may feel intense pressure to fit in and make friends. In this fun and engaging guide, therapist and teen expert Lucie Hemmen offers ten tips to solve one of the biggest worries teen girls struggle with: social success.
As you face new academic and social pressures, you may feel more stressed out than ever before. You want to relate to your peers, but you may not have the skills you need to successfully navigate the social world. Grounded in evidence-based cognitive behavioral therapy (CBT), this book will help you develop simple and effective ways to connect with your fellow teens while still remaining uniquely you.
In the book, you'll discover tips for finding your strengths, identifying negative self-talk, understanding social situations, and making new friends. Most importantly, you'll discover key strategies for creating a strong sense of self-knowledge and self-appreciation—two key building blocks for succeeding in the social world, and beyond.
If you're ready to move past all the BFF drama and clique mentality, and start making truly positive connections with others, this book will show you the way.
#2 You're Tearing Us Apart by Pat Love…etc.
So the next book that I'll be showing you was sent to me by HCI Books.
No one argues with the fact that relationships in the 21st century are complicated. One recent study found that couples spend only 35 minutes per week in intimate conversation; the rest of the time they rely on electronic contact and notes. To keep a relationship from hitting "esc" or worse, "delete," this fast-paced life calls for fast-paced strategies, and this book is full of them! Many broken relationships not only can be mended, but they can actually be magnificent. You're Tearing Us Apart follows a simple, get-to-the- point formula for each chapter. First, a narrative describes what it's like living with someone who is practicing relationship-threatening behaviors. Next, the psychology behind the behavior is explained, followed by a succinct account of why this particular behavior threatens relationships. Finally, the best strategies for transformation are spelled out, covering such a wide range of options most any couple can easily comply. These four sections validate the experience of both partners, offer concrete reasons why change is necessary and then present a selection of strategies to move forward.
#3 The Joy of Success: 10 Essential Skills for Getting the Success You Want by Susan Ford Collins
This ARC was sent to me by Greenleaf Book Group.
What happened to The Joy of Success? In these hectic, demanding times we simply don't have time to do what doesn't matter, but most people spend hours each day doing just that. They work longer and harder with more stress and less satisfaction and fewer dreams realized. And they teach their children to do the same.

In this new edition of the must-read guide to personal satisfaction and fulfillment, renowned business consultant and motivational speaker Susan Ford Collins shows individuals how to achieve success in their lives. She outlines the 10 essential Success Skills and provides easy-to-learn methods for immediately putting them to use.

Whether readers are changing jobs or relationships, starting or managing companies, families or dreams, these 10 skills will guide them step by step not just to the successes other people want for them, but to the completion of their own projects and dreams.
–
There'll be more coming in the future… As you can see, my TBR pile's almost exploding. I guess I need to finish my examination first before reading these books. BTW! Just wanna share with you my new authorgraph! YAY!
So that's it for now. Thank you for stopping by. If you have any suggestions, recommendations or inquiries.. feel free to email me at: abookwithbea@gmail.com
Good Day!
B x